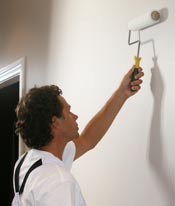 Whether you're renovating or decorating your home, painting and wallpapering are major features of your colour scheme.
Their influence on the impact of your design really can't be underestimated. PAL helps make decorating easy with a wide range of paint brushes and roller sleeves that are specifically designed for your task at hand. PAL's 1-6 roller system and range of premium paint brushes are designed so you get the best finish possible with the type of paint you are using and, for the surface you are painting. We're keen to share the wealth of our experience with eager "Do-It-Yourselfers"!
In this "How To" section:
You'll learn how to achieve perfect paint finishes by mastering How to Paint with a Brush and How to Paint with a Roller.
And our Project Planner offers all kinds of handy hints for planning your DIY adventures.